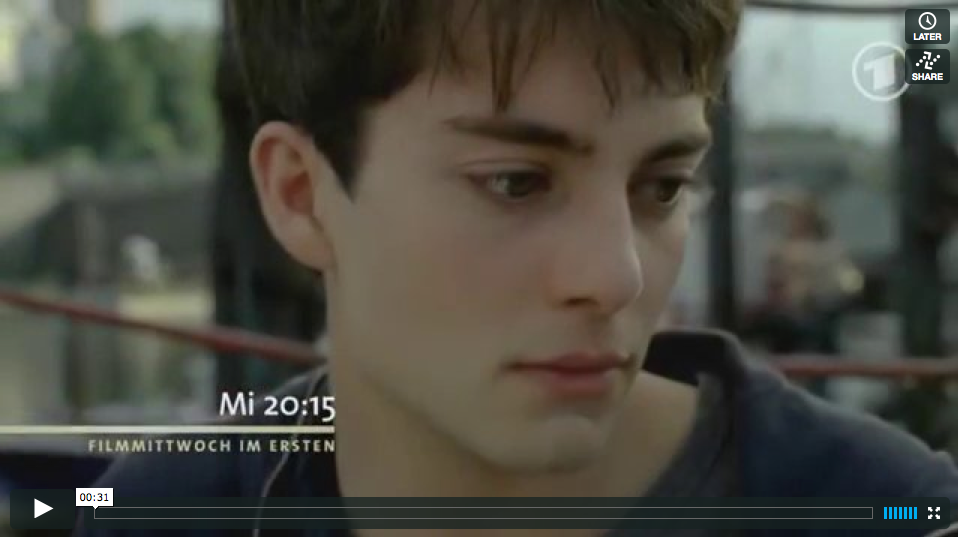 Hi everybody, some great news for november we want to share with you. Please have a look below…
MAX HEGEWALD, one of our most upcoming talents for acting and directing (yessss!!!) stars for ARNES NACHLASS/ ARNES HERITAGE, directed by Thorsten Schmidt, German tv premier, November 13th/ 08:15 pm/ ARD, info…
…MAX HEGEWALD stars also for SCHERBENPARK/ SHARD PARK directed by Bettina Blümner. Max-Ophüls-film festival 2013 premier/ awards for best script/ best lead and audience, film critic and CineStar award at the Movie art festival 2013! Check out the trailer, German cinema release November 21st.
STEFAN STERN stars for IM ALTER VON ELLEN/ AT ELLEN'S AGE, directed by Pia Marais, awarded at Buenos Aires international festival of independant cinema and nominated at Locarno international film festival, November 22nd/ 09:55 pm/ ARTE info…
…currently from Brasil during his theatre tour for UM INIMIGO DO POVO through South America, which he stars for!

Rome film festival, November 08th to 17th…
TÓMAS LEMARQUIS for the american- korean coproduction SNOWPIERCER, directed by Joon-ho Bong, together with John Hurt, Tilda Swinton and Ed Harris, info…
FLORIN PIERSIC JR., after Cottbus (as a director) for a screening and Q&A with his movie 'Killing Time' he will be in Rome between November 11th – 14th with the movie QUOD ERAT DEMONSTRADUM (official selection) directed by Andrei Gruzsniczki which he stars for! info…
LEONARDO NIGRO for IL VENDITORE DI MEDICINE/ THE MEDICINE SELLER, directed by Antonio Morabito, info…
GISA FLAKE, stars for the new series directed by the also very successful and famous director and comedian Michael Herbig (VICKY THE VIKING and the sequel, box office hits in Germany and many times awarded and also with Gisa) BULLY MACHT BUDDY/ BULLY MAKES BUDDY, November 18th, 09:40 pm, Pro Sieben, the sitcom to the upcoming feature film (BUDDY) also with Gisa, info…
…and now the NEW TRAILER!!!

PAULA KROH stars for SUNNY, directed by Barbara Ott which won the award for best 60 minute feature film at the First Steps Award 2013 and recently the German short movie award 2013, premier November 12th, 08 pm at Moviemento cinema in Berlin…
COSIMA CIUPEK is shooting for one episode of SOKO LEIPZIG- WAS NICHT SEIN DARF/ SOKO LEIPZIG- WHAT SHOULDN'T BE, directed by Buddy Giovinazzo, famous German crime series…
DANJA MATHARI, stars for a delicate, haunting music video of Aloa Input for their track 'Someday Morning'. In this poetic pseudo-documentary we follow a night in the life of uni student Danja M, who might be the world's first ever support worker for sleepwalkers. Directed by Bryn Chainey, she also finished the shooting for the movie 8848, directed by Giorgi Korkashvili which she stars for…