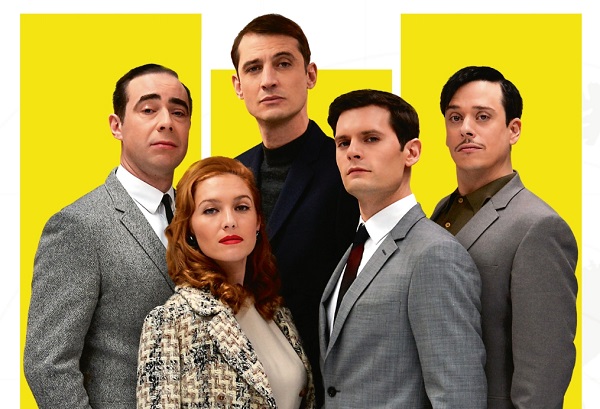 Hello friends and business partners. Welcome from out of the berlin low light slot district… before it will get completely dark here some shiny hot news from our clients. So pls check them out and keep them in mind for your future projects. Funky greetz from Das Imperium crew Anne, Anna, Manuel & Georg
AU SERVICE DE LA FRANCE (info) is a new tv series on ARTE where a new client we represent…the one and only mister HUGO BECKER stars as lead character. This great series is also on air on German ARTE (pls click here). We present you our preview to promote him which you will find below. Besides Hugo Becker stars JOSEPHINE DE LA BAUME also for AU SERVICE DE LA FRANCE. Josephine also stars for LISTEN UP PHILIP, directed by Alex Ross Perry. It will be the German premiere and will be screened at the Around the world in 14 films festival in Berlin at the end of November, info.
Previously Hugo Becker won the Young Cannes Talent Award in 2010. He speaks Frensh, Engilsh and Spanish fluently and had his breakthrough as Prince Louis of Monaco in GOSSIP GIRL (2010 – 2012). Next to Felicity Jones and Guy Pierce he stars for BREATHE IN and for other several TV series in France and the US like SILENT WITNESS for BBC network. He is also directing and producing with his company Nouvelle Donne…


AU SERVICE DE LA FRANCE, French series by Jean-François Halin and Claire Lemaréchal (trailer)
CHEFS, created by Marion Festraëts and Arnaud Malherbe (trailer)

SILENT WITNESS series for BBC network (scene)
GOSSIP GIRL, created by Stephanie Savage and Josh Schwartz (scene)
MEHDI NEBBOU
,
stars for the pretty amazing TV movie
DIE TAGE UNTER NULL/ LES HEURES SOUTERRAINES
,
directed by Philippe Harel.
The movie follows the tradition of the great Michael Haneke. Don't miss it, today is the last day you can watch it in the mediathek…
DIE TAGE UNTER NULL/ LES HEURES SOUTERRAINES, directed by Philippe Harel (full movie)
The Contexta art video project, shot in super slow motion, directed by very talented swiss director and artist Noel Dernesch will be screened between 13th- 15th November at Kunstlalle Bern, info featuring
COSIMA CIUPEK & BRITTA THIE
Britta Thie will be now represented by Das Imperium Talent Agency

(D.I.T.A.)

Britta is a multi talented bilingual (German & English) actress and transmedia atrist who stars for many art movies and recently for her own developed transmedia web series TRANSLANTICS. For more information about her multimedia art pls click on the link…
TRANSLANTICS (trailer)
web series TRANSLANTICS (episode 06)
SHOOTING (video project)
JESSY MORAVEC, stars for BIS WIR BLUTEN/ UNTIL WE BLEED, directed by Rico Mahel at the First Step film festival (10th- 14th November), info. She finished recently the shooting for the very known German crime series LETZTE SPUR BERLIN/ LAST TRACE BERLIN and for an absoluely great music video she produced the first time (together with Tizia Florence) for the electronic music project LUNAKID for which several of our clients like Oleg Tikhomirov, Lucas Arthur Englander, Artjom Gilz, Milton Welsh, Daniel Steiner, Caro Cult, Tizia Florence and ROBERT MAASER…


BIS WIR BLUTEN/ UNTIL WE BLEED, directed by Rico Mahel (scene and set pictures by Andreas Scholz and dffb 2014)

ROBERT MAASER, shot recently two feature films which were based on successful TV serieses. The first is the cinema adaption of the most famous German crime series TATORT/ CRIME SCENE, directed by Christian Alvart next to Til Schweiger and the second is the adaption of the adventure series ALLEIN GEGEN DIE ZEIT/ ALONE AGAINST THE TIME, directed by Christian Theede. Another client stars also for the movie, PAUL BOCHE…


TATORT/ CRIME SCENE, directed by Christian Alvart  (set picture)


ALLEIN GEGEN DIE ZEIT/ ALONE AGAINST THE TIME, directed by Christian Theede (set pic)

PAUL BOCHE
besides the feature film project ALLEIN GEGEN DIE ZEIT/ ALONE AGAINST TIME where Paul stars next to Robert Maaser, Paul also shot the German tv movie PEGGY- DAS LEBEN IST KEIN PONYHOF/ PEGGY- LIFE IS NOT A PONY FARM, directed by David Gruschka…
DAS LEBEN IST KEIN PONYHOF, directed by David Gruschka